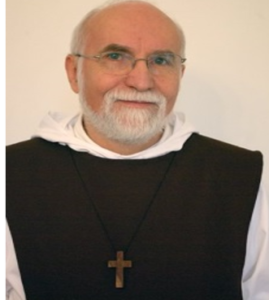 Sunday Masses/Feb. 29th /March 1st
Eight Doors to the Kingdom Parish Mission
March 2nd to March 4th, 2020
THIS PROMISES TO BE A FABULOUS RETREAT FOR OUR PARISH
THE PERFECT WAY TO BEGIN LENT 2020
St. Mary's Cathedral Kingston is the only Canadian stop on Father Philippe's current speaking tour in North America.
 The great French spiritual master and author, Father Jacques Philippe, is coming from France to the Cathedral from February 29th to March 4th.  He will preach at all the Sunday Masses the First Sunday of Lent, (5 pm, Feb. 29th & March 1st at 8 am, 10:30 am and 7:30 pm) and will lead a Parish Mission on the Eight Beatitudes at 7 pm on Monday, March 2nd, Tuesday, March 3rd and Wednesday, March 4th.  For further information, please contact  Ann Lyng at ministries.smc.279@gmail.com , 613-546-5521 ext. 5 or Father Shawn Hughes at rector.smc.279@gmail.com
Father Jacques Philippe is a prolific author: These are the titles of some of his books which indicate the depth of the presentations we are going to receive the first week of March:  Nine Days to Rediscover The Joy of Prayer; The Eight Doors of the Kingdom: Meditations on the Beatitudes; Fire and Light, Learning to Receive the Gift; Real Mercy: Mary, Forgiveness and Trust; Thirsting for Prayer; Called to Life; In the School of the Holy Spirit; Searching for and Maintaining Peace: A Small Treatise on Peace of Heart; Time for God;  Interior Freedom; The Way of Trust and Love: A Retreat Guided by St. Thérèse of Lisieux.  Copies of  these books will be available for purchase during the retreat.
These are the themes on which he has written:
Detachment,  Difficulties in Prayer, Faith, Hope, and Love, Fidelity and Perseverance in Prayer, Finding Time for Prayer, Freedom, God's Action in Us, God's Calls, Happiness, Lectio Divina, Love, Obedience to Inspiration, Paths to Holiness, Prayer, Prayer and Unity of Life, Sacred Scripture, Spiritual Discernment, Spiritual Poverty, Suffering, The Humanity of Jesus, and  The Present Moment, The Sermon on the Mount, The Eight Beatitudes